AMICA NATURA FOOD SERVICE

Amica Natura Catering & Horeca,
THE TOP QUALITY FROZEN PRODUCT LINE FOR RESTAURANTS

Amica Natura Food Service is the Frozen, natural, high quality, already cooked, grilled or precooked, available in practical food service bags designed for an easy use, already in standard portions and frozen separately with IQF technology. Amica Natura Food Service is the product line made by the Italian frozen food supplier Alcass. This product line meets high quality standards with food operators needs to offer an always fresh, tasty and well-being food menu, at a competitive quality-price ratio.
FROZEN FOOD SUPPLIER, BEST MADE IN ITALY FOR RESTAURANTS AND HORECA
Our frozen food snack Amica Natura by Alcass for restaurats, born to meet the food operators needs, like fast preparation and a product easy to be prepared and to control the food cost,  both for large professional kitchens and small kitchens or small spaces used for heating food for fast catering of snack bars, pub, breweries, kiosks and food trucks. The frozen food line by Amica Natura is distributed in the ho.re.ca compartment, very appreciated thank to the practical  reactivation in a few minutes in a microwave, classic oven, frying pan and grill.
FROZEN FOOD SNACK AND TASTY READY MEALS
The Amica Natura frozen food label range for restaurants, bars, kiosks, fast food and street food, collective catering, is the best solution for all food operators, to offer the original Italian flavor and quality and a good level of taste satisfaction, optimizing food costs, preparation and service time and reducing food waste.
The Amica Natura frozen product lines for restaurants: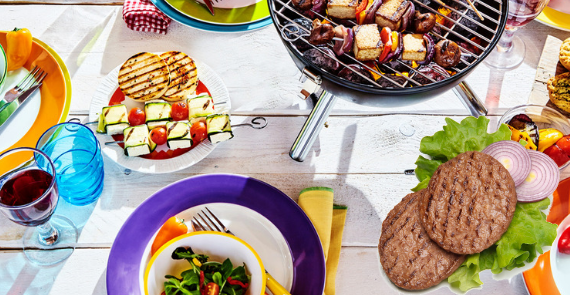 Amica Natura hamburgers, already grated and ready to be eaten
Already cooked and grilled!
Among the Amica Natura frozen food lines for catering, the Amica Natura already cooked and grated hamburgers are among our top sellers. Already ready and only to be reactivated, the Italian frozen hamburgers are the perfect solution for small pub kitchens and cafeterias or for the catering corners of snack bars and also for the large canteens and kitchens of the collective catering. Grilled and cooked beef burgers of different sizes (mini, maxi, giga, classic), skewers of meat and pork italian quality sausages already grilled, with a special and aromatic smoking, which can be reactivated in a few minutes even in the microwave and ideal for all kitchens, from catering corners to large temporary kitchens for events and parties.
Designed to facilitate the food service operators, for creative and tasty sandwiches and other preparations, in canteens, parties and festivals, catering and banqueting events, food trucks, bars and kiosks, motorway catering and large fast food chains. Discover the full range and contact us for more info!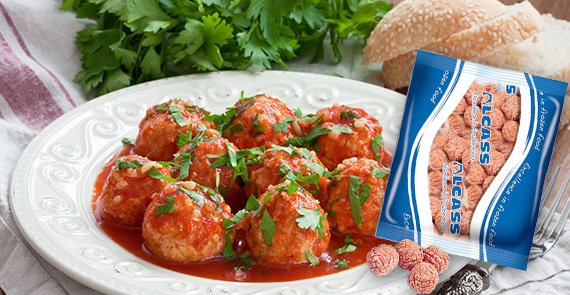 The Italian "Polpetteria Amica Natura", tasty best meatballs supply for restaurants, catering, pubs and bar
Meatballs are the best tasty trend in the worldwide menus and the Amica Natura Italian meatballs are tasty, healthy and exquisite and also easy to be customized (meatballs in crockpot, spaghetti tomato meatballs, meatballs with rice, meatballs and gravy…). At the top of the food trend for delicious finger food appetizers and recipes, pasta meals, inside sandwiches and wraps or as unique course.
The Amica Natura Italian meatballs are proposed in practical bags for catering and freeze with IQF freezing technology, a factor that favors the non-attachment of portions, the preparation and service. In this Amica Natura frozen food line are available the traditional beef top quality meatballs, to be cooked or fry in a few minutes still frozen, made with a simple and natural dough, or even the organic chicken meatballs, the vegan meatballs made with aubergines, the gourmet fish meatballs made with the white sturgeon fish from 100% Italian Friends of the Sea certified farms and stilled the breaded cheese meatballs and also soy-based vegetarian and vegan one.

Amica Natura food service collection,  frozen meat all natural and without preservatives
Frozen meat for catering,  banqueting, collective and fast catering, designed to offer a practical and high quality offer for the food operators. The frozen meat is top quality meat, without any preservatives. As it is already well known, frozen foods are not a standard product, but an excellent way to preserve valuable food such as meat. In addition, frozen meat is preserved in its maximum point of quality and freshness, without any additive, always available, reducing food waste and cost.

The vegetarian and vegan frozen food lines for Food Service Markets
Meat-free frozen food products are based on healthy and tasteful recipes. The Amica Natura frozen food vegetarian line  and vegan frozen products born to offer a top quality and flavor proposal to customers who follow a specific diet or who desire to follow  an healthy nutrition. A tasty alternative to offer to Customers  an inviting menu. Vegetable burgers, soy meatballs, soy cutlets, appetizing and the delicious 100% vegan lasagne.

Frozen organic meat, the high range proposal
All the excellence of Amica Natura Organic frozen Product Line, the top quality range of frozen organic meat, in practical and easy-to-use packagings,  designed to meet the food service, food preparation and needs  of large kitchens, company or school canteens, both organic and large professional kitchens.
The frozen food products of the Amica Natura BIO-organic food service collection include appetizing and high-demand references such as chicken nuggets, cutlets, organic or bovine meatballs, organic chicken burgers and organic beef burgers , as well as  the natural organic meat such as roast beef, beef stew, ground beef, chops and steaks of organic beef.

Frozen raw burgers for restaurants, high quality dough
The doughs of the hamburgers of the catering line signed by Amica Natura are made with the best meats, as Alcass from 1987 guarantees, one  of the best and historic food company made in Italy. Few ingredients, well balanced, frozen IQF without preservatives or additives, always fresh and available in the freezer. The frozen product of superior quality allows to raise the level of the meal served, reducing the food cost and reducing food waste.