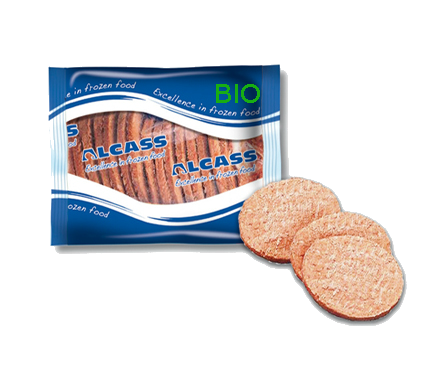 Beef Burger Food Service Organic 1X150 g/C8011B
High-quality beef red meat dough of certified organic origin. Classic and traditional hamburgers, made from a tasty dough, based on a few and selected ingredients, healthy, natural and genuine, frozen with Iqf technology, keeping them unchanged in freshness, quality and flavor. Without the addition of artificial preservatives or additives.
First quality Italian product with high nutritional value. The frozen hamburgers for the Amica Natura Bio food service collection are made with organic origin and boast high quality, with a dough processed from organic meat from selected Italian farms. The Organic Amica Natura beef burger is ready in minutes, cooked in a pan or on the grill. Frozen, so not perishable in a few days, without chemical preservatives but preserved at the maximum point of freshness only thanks to our most powerful natural preservative, the cold.
The Amica Natura organic beef burger comes in handy food service bags, with easily removable portions (iqf deep freezing) and preservable. A healthy alternative to the classic hamburger, rich in flavor and taste.
How to cook frozen hamburgers from the Amica Natura Food Service line?
The frozen organic hamburger is cooked in a few minutes, directly without being defrosted, in a hot pan or on the plate. It can be served only with olive oil or covered with the most imaginative and delicious sauces and vegetables in season or in delicious burgers, to be prepared with genuine ingredients.