amica natura classic product line

Amica Natura Classic is the traditional and classic product line of the frozen food company Amica Natura. Amica Natura food products born from the best Italian recipes and best raw materials, without preservatives and presented in convenient and eco-friendly packs. Few ingredients, selected, for tasty and light recipes , ready in a few minutes in a pan, oven or microwave and easily customizable.
Amica Natura, since 1987,  is synonymous with top quality Italian food
Amica Natura classic collection is the meat selection of typical italian second courses.

Amica Natura meatballs
The famous and popular Italian meatballs , made with our typical and genuine recipe, without the addition of preservatives and additives and with fine selected meat. Easy customizable  with sauces, baked recipes, tasty or lighter recipes. Fine meat and excellent quality.

Classic hamburger
The genuine beef burgers by Amica Natura! The first choice meats selection and the mix of a few genuine ingredients, without any preservatives or additives, to be cooked in a pan or grilled in a few minutes, has made them one of the best sellers signed by Amica Natura.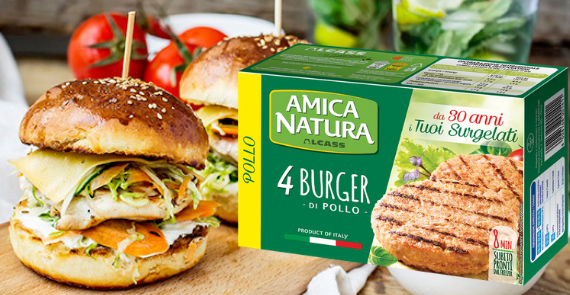 Chicken hamburger
New entries in the Amica Natura family! Welcome chicken burger… the new Amica Natura hamburgers boast a flavor, few calories and all the nutrients of white meat, such as proteins and vitamins. The Amica Natura chicken burgers are genuine, natural and perfect for the whole family!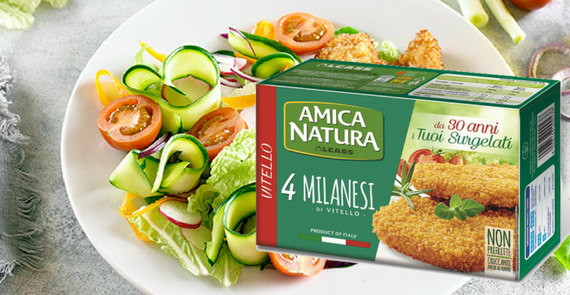 Breaded cutlets
The Amica Natura cutlets. A light and crispy breadcrumbing, made from top-quality Amica Natura meat, not pre-fried, ready in a few minutes in a pan or oven. To be served only with side dishes or inside delicious sandwiches.

Burgers Collection, the Premium product line by Amica Natura
The Burgers Collection by Amica Natura is the premium line of the food brand, launched in 2017. The premium hamburger collection is made with top quality meat chosen among the most famous Italian regional breeds such as Marchigiana, Piemontese and the most known Chianina. The gourmet burgers of this special collection stand out for their intense and decisive flavor and for the very high quality of the product.
Which taste do you prefer?

Natural frozen meat trays by Amica Natura Classic
Amica Natura Classic frozen meat trays are the perfect selection for small and medium-sized stores, allowing them to offer their customers a choice of the highest quality meat, always available and always at the maximum freshness, optimizing costs and reducing waste . Made in Italy product.

The Meatballs Mix
The  Amica Natura Italian Meatballs selection is one of the latest top-selling products by Amica Natura launched on the market. The special and tasty meatbalss collection is a trio of delicious recipes with an irresistible flavor, perfect to create inviting appetizers,  for aperitifs and also as first or second course. Three versions of the most classic Italian meatballs, one more greedy than the other, customizable in many wow effect recipes.