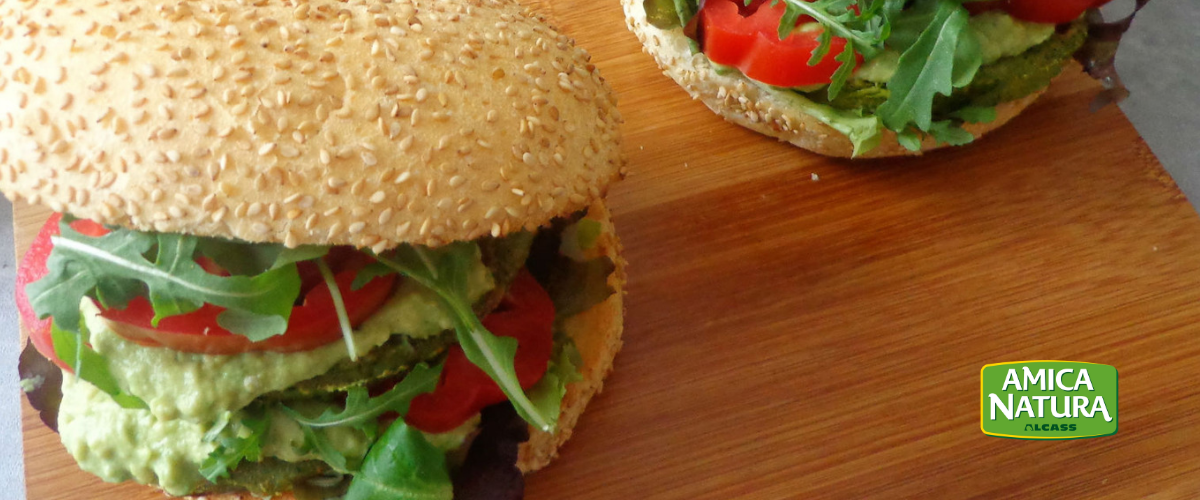 Our Food Blogger Madga,  from the blog "La Grande e la Piccola Cuoca"   prepared today for us a fresh and tasty recipe, the Veg Burger with spinach,  enriched with a savory avocado  and basil sauce.
Perfect for a quick lunch or dinner, healthy and full of taste!
THE RECIPE

Ingredients
2 classic sandwiches for hamburgers
2 tomatoes
a handful of rocket salad
For the sauce
an avocado
a lime
a pinch of chili
a clove of garlic
salt and pepper
about ten leaves of fresh basil
HOW TO PREPARE IT
We start to prepare the avocado and basil sauce. Wash and divide the avocado into two. Remove the core, peel and cut the diced pulp. Put it in the mixer and add the minced garlic clove, basil leaves, lime juice, salt, pepper and chilli, basil and blend everything.
In a very warm and non-stick pan, add a little oil, cook the veg burger with the Amica Natura spinach, still frozen for about 5 minutes per side. Cut the burger sandwiches into two. Brown them on a grill. Then place the burger rolls on a cutting board, add the veg burgers to spinach, tomato, rocket and plenty of avocado and basil sauce. Close the sandwich and serve again hot.