FROZEN PRODUCT LINE
plant based Amica Natura

The Amica Natura vegetarian and vegan food frozen product line born almost twenty years ago, to offer a tasty  vegetable food alternative to the classic recipes based on proteins of animal origin. Amica Natura Veggie & Vegan is the result of a hard work of research and development that also won awards and recognitions at an international level. The vegetarian and vegan Amica Natura range, in fact, consists of very successful references because of the mix of flavor, nutritional quality and few ingredients, natural and healthy.
The vegan frozen food line presents food products rich in nutritional substances, for a healthy and sustainable diet, well-being and taste. Among the Amica Natura vegan frozen products , the veg burger based on spinach, lasagna with meat sauce and soya béchamel, chickpea burger and cutlets filled with delicious vegetables from the garden.
Amica Natura's vegetarian line, on the other hand, is the perfect alternative for those who do not follow a specific diet, but choose their diet based on the principles of health and sustainability. The natural recipes, based on vegetable proteins, are a panacea for a varied, light and vitaminic diet. Among the vegetarian frozen foods Amica Natura we find the tasty soy meatballs rich in fiber and vitamins and the soy-based cutlets.

VEGEINTABLE

The Plant Based line "Vegeintable" is a challenge to food innovation: a recipe 100% plant based, without gluten, soy and GMO.
Amica Natura wants to support the new food styles, which see the issues of health and sustainability as its main objective.
Different references have been created, to give the possibility of choice, with different recipes and ways of use but maintaining the same basic characteristics. This is how burgers, meatballs, nuggets and cutlets are born, available in versions with or without soy.
Eating less meat comes from different needs: ethical and personal choice, or related to environmental attention.
Replacing meat proteins with vegetable ones is also very important for the protection of the environment: compared to a meat burger production is more sustainable and consumers are increasingly aware of the environmental impact of their food choices.
The Plant Based Vegeintable frozen line Amica Natura can be compared to a classic meat burger or cutlets, with the advantage of being a product composed only of vegetable proteins.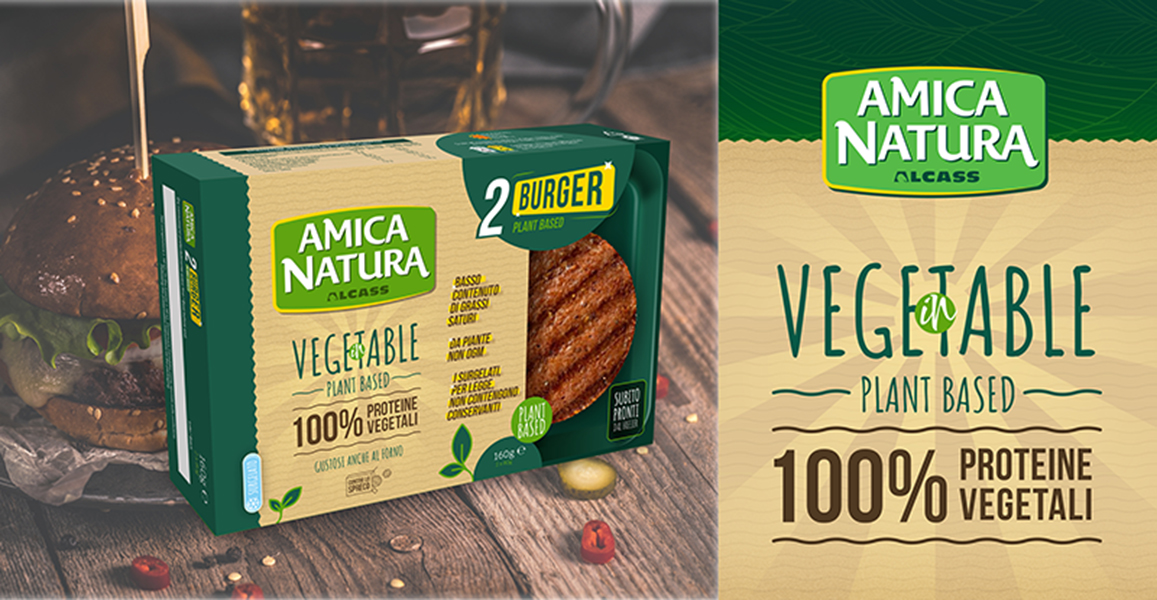 Plant Based Burger Vegeintable
Plant Based "Vegeintable" burgers feature a 100% plant based, gluten, soy and GMO free recipe.
The real alternative to meat, to create your favourite sandwich, totally based on plant proteins.
Available also in soy protein enriched version.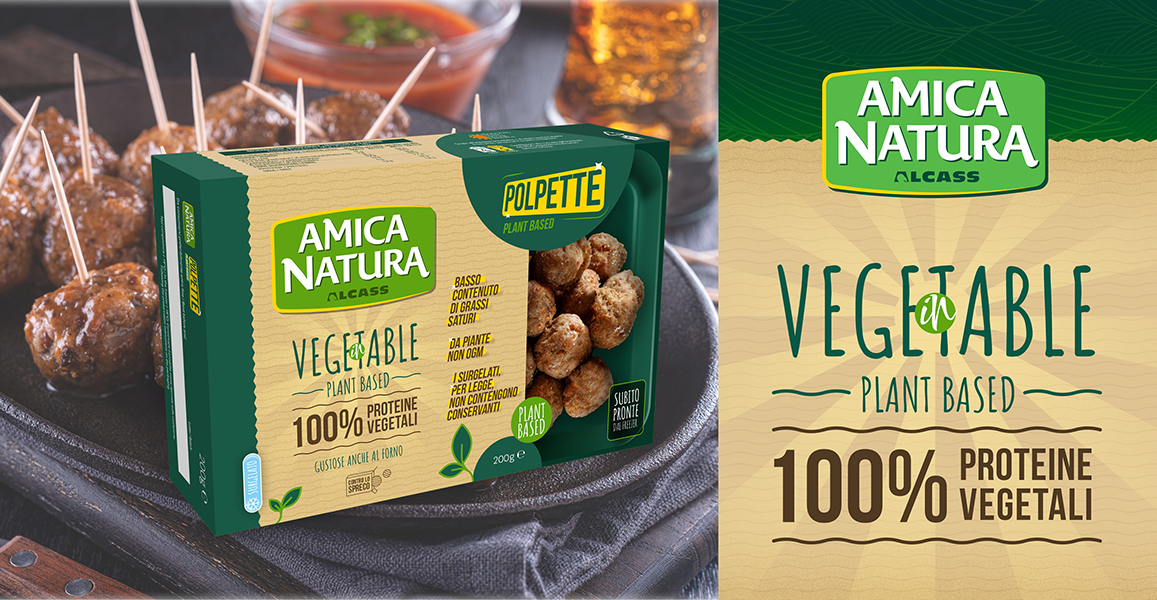 Plant Based Vegeintable Meatballs
The traditional meatballs meet innovation, thanks to a recipe based entirely on vegetable proteins, gluten, soy and GMO free.
The alternative for and complete meal, without sacrificing taste.
In convenient ready-to-use 200gr packs, available with or without soy.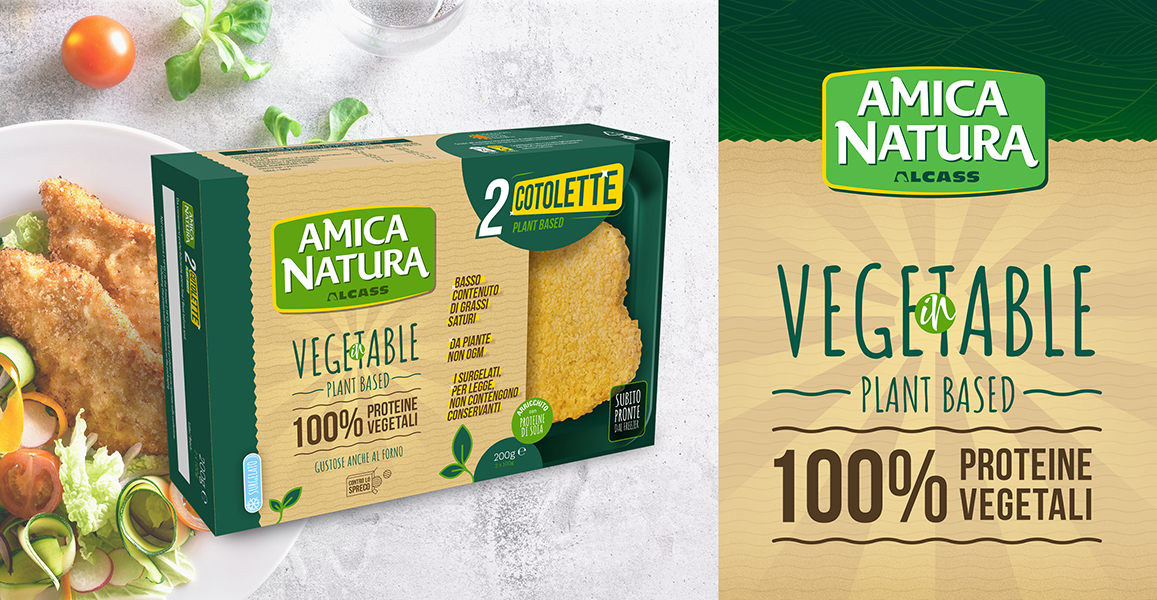 Plant Based Cutlets Vegeintable
The Plant Based "Vegeintable" cutlets are worked with a fragrant breading, which makes them irresistible.
Thanks to the recipe without gluten, soy and GMO, and with only vegetable proteins, they are a valid alternative to the classic chicken cutlet.
Try both with and without soy version!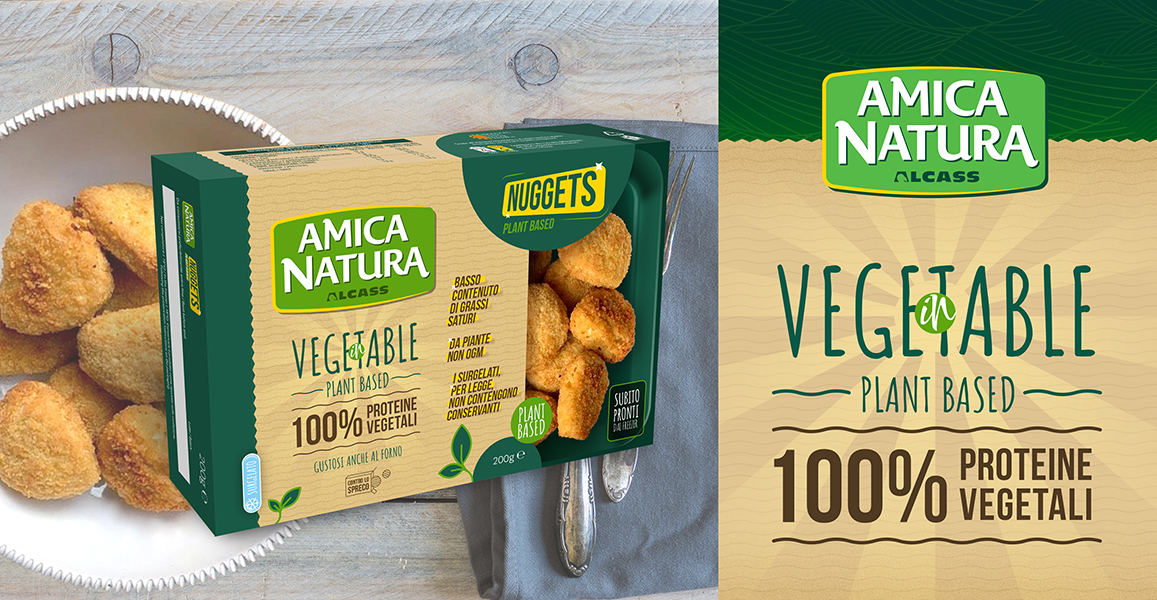 Plant Based Nuggets Vegeintable
A second course ideal for those who love delicious tastes: plant based nuggets, ready in a few minutues and tasty, thanks to the crunchy breading.
Delicious vegetable-based bites, but with an irresistible taste.
Enrich them with your favourite sauce!

VEGAN FROZEN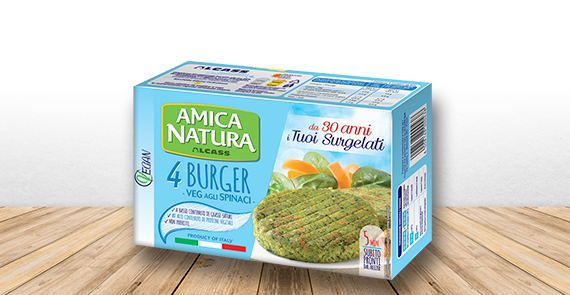 Spinach Burger
Vegan spinach burger, made with the best variety of vegetables. A delicious, delicate and authentic flavor, preserved in freshness thanks to the cold, for a healthy and natural recipe ready in minutes, to be seasoned as you please with imagination and creativity. Fill up with taste and vitamins!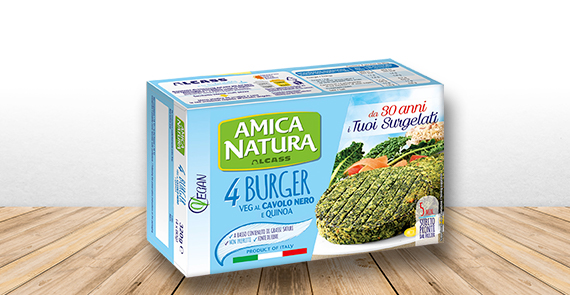 Black cabbage and quinoa burger
A vitamin explosion!
The Black Cabbage and Quinoa Burger is a super vegetable burger based on the famous Tuscan cabbage, super food rich in minerals and vitamins, combined with the precious nutritional values of quinoa and other 10 varieties of Italian greens.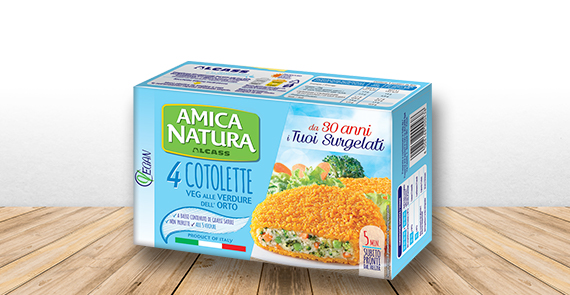 VEG cutlets with garden greens
A super tasty cutlet, with light and crispy breading, soft and colorful heart based on fresh vegetables. Completely natural, without chemical preservatives, vegan cutlets Amica Natura with vegetables are delicious and appetizing!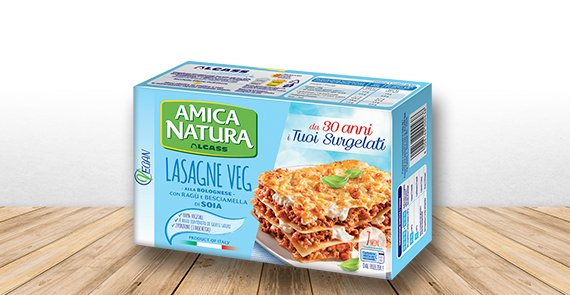 Lasagne with meat-free ragu sauce and soya béchamel
The Amica Natura vegan lasagne is the right product if you are short of time and you desire good an healthy and  succulent dish. The lasagna with meat-free ragu sauce and soya béchamel, with fresh pasta without eggs are the first typical dish of the Italian tradition, in a creative, tasty and vegan version.

VEGETARIAN FROZEN FOOD Amica Natura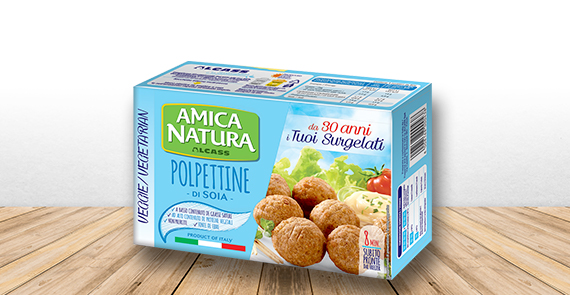 Soy frozen meatballs
The soy meatballs Amica Natura appetizers, tender, light, rich in vitamins and proteins of vegetable origin, rich source of fiber. Highly digestible, soy meatballs can be the winning ingredient of many recipes for the whole family, pleasant appetizers with sauces, pasta with spaghetti and pasta , baked pasta, gourmet sandwiches and classic main courses.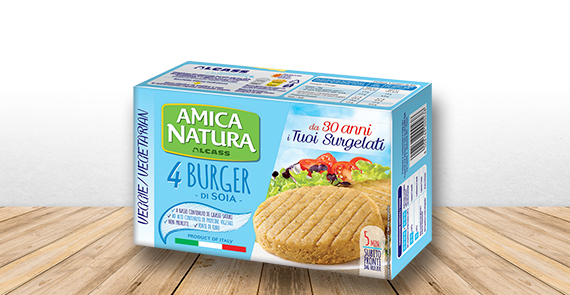 Soy burger
A super-tasty veggie burger made with soy, an excellent meat-alternative. The proteins of vegetable origin of the famous legume are one of the secrets to include in the daily menu, for an healthy, nutritious and eco-friendly diet.
An injection of taste, health and wellness!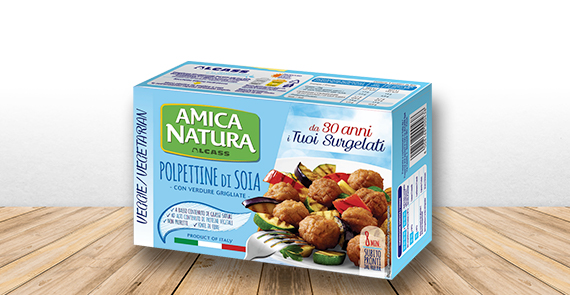 Soy meatballs with vegetables
Soy frozen vegan meatballs made with a delicious side of grilled vegetables. An inviting, second course of quick preparation, in the oven or in the pan.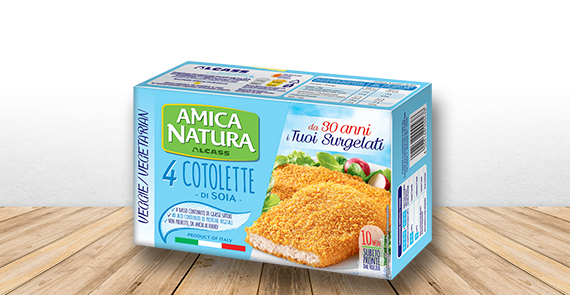 Soy cutlets
Crispy outside, tender inside. The soy cutlets will amaze you with their incredible taste.
Very good, tasty and very healthy!