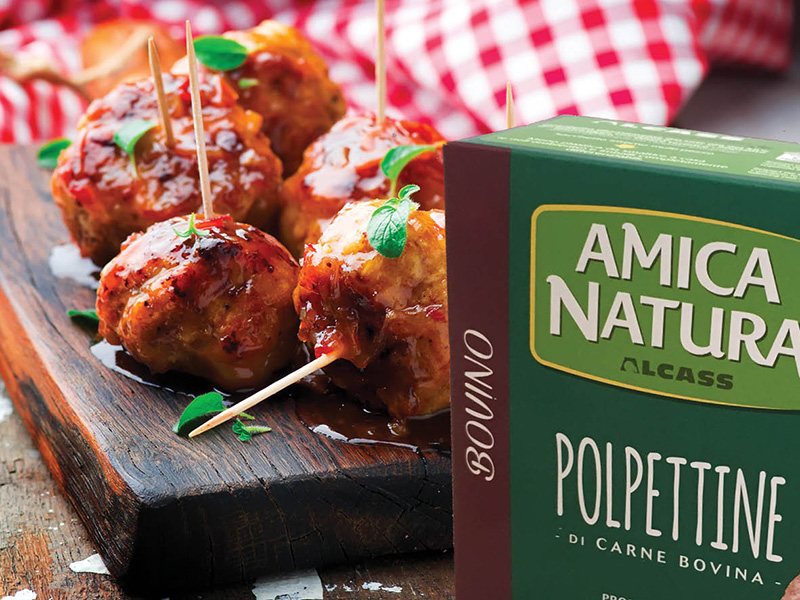 The sweet and sour meatballs by Amica Natura Chef are simple to prepare, yet really tasty!
A main course ideal for several occasions: from an informal dinner with friends, to an aperitif or a special lunch!
Thanks to the use of soy sauce, they intensely recall the Asian cuisine because of their flavour and aroma.
Besides that on hot summer days you can serve them cold and they shall always turn out to be extremely savoury!
INGREDIENTS
600 g. Amica Natura frozen meatballs
For the sweet and sour sauce:
150 ml water
90 ml soy sauce
1 spoonful of cornstarch
1 spoonful of cane sugar
A little parsley
1 clove of garlic
1 spoonful of extra virgin olive oil
PREPARATION
Cook the bovine meatballs for 5 minutes, by placing them still frozen in a pan, with a warm oil drizzle.
Put all the ingredients for the sauce in a separate pan over low heat, stirring thoroughly.
Add the meatballs to the sauce and cook for another 5 minutes.
Your meatballs are ready!
You can serve them both hot or cold, they shall always be appreciated … bon appetit!